The Location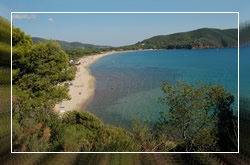 The Le Stanze apartments look out over the beautiful Gulf of Laconella on the tip of the Gulf of Lacona. The beach is about 100 metres from the apartments with a view over the crystalline waters characterising the entire Gulf.
The apartments are about 15/20 minutes drive from the ports of Portoferraio and Rio Marina, and are in an area where there is no major transit road...tranquillity and relaxation will be the best companions for your holiday.
All the facilities required for an enjoyable holiday are in the vicinity of the apartments (Supermarkets, Bank, Restaurants, etc.).